Which name labels will best suit you and your family? Self-adhesive, Stick-On Name Labels, or Iron-On Labels? It is your lucky day – they are all great choices! Our self-adhesive name labels are a must-have for a busy family. We recommend iron-on labels for items such as headbands, homemade knitwear, socks, and clothes without care instructions. What about accessories like erasers, pencils, scrunchies, Lego bricks, and other bits and pieces? Mini Name Labels are here to save the day! And do not forget about your sizeable belongings. Our Large Name Labels are delicate, eye-catching, and prominent! They are perfect for lunch boxes, water bottles, toys, bikes, and backpacks. Keep reading to find out what products fit your needs.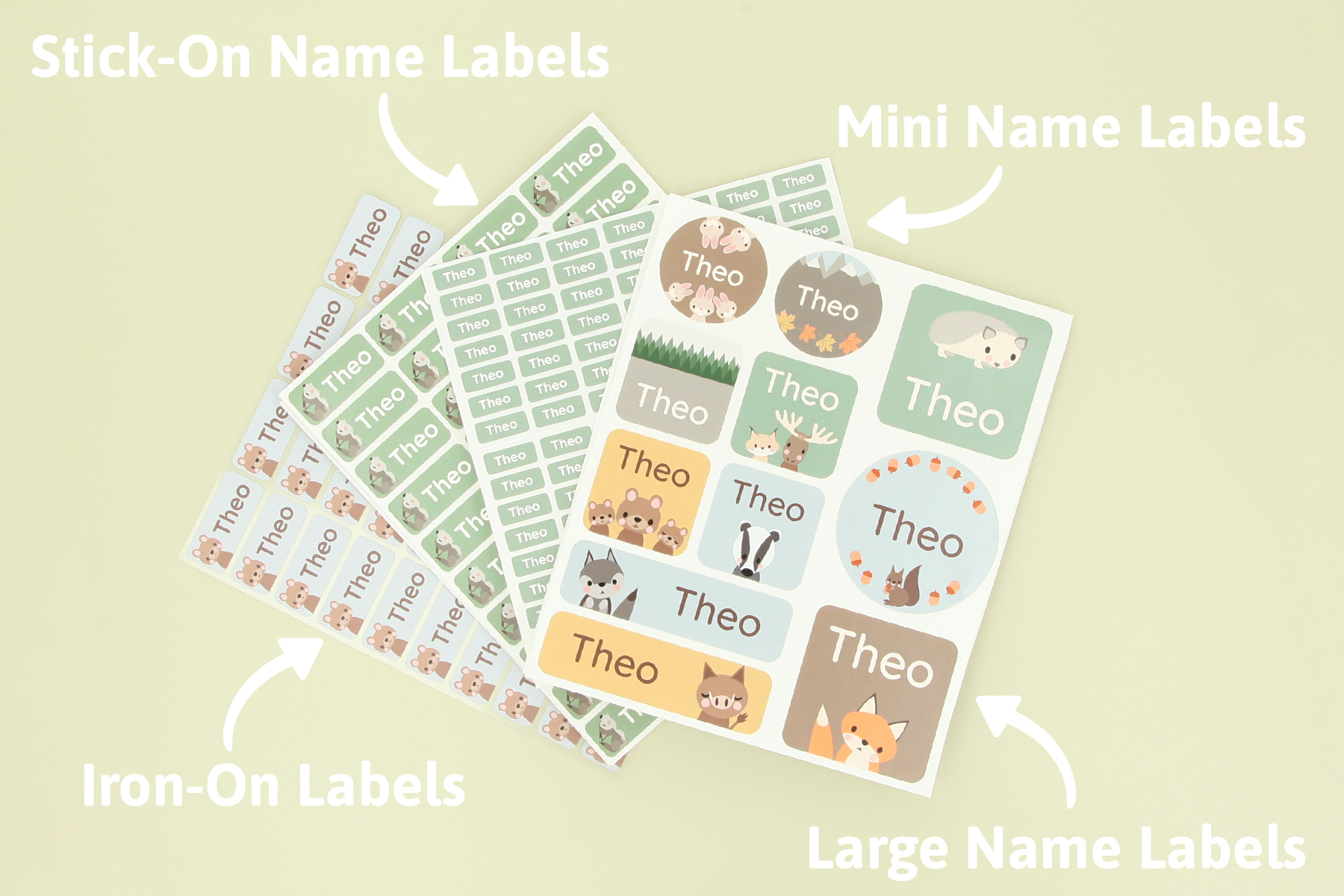 Self-Adhesive Name Labels – Mom and Dad's Favorite
Easy and quick to use, but still of high quality? That sounds like every parent's dream. Our self-adhesive, no-iron name labels make dreams come true. The labels are easy to attach to care instructions inside clothes – and they endure wash after wash, year after year. Our self-adhesive name labels will stick with just a simple touch of the thumb.
120 name labels will allow you to label most of your wardrobe – and maybe even more? Our self-adhesive name labels can stick to anything from lunch boxes and water bottles to clothes and shoes. Even after wear and tear over time, the name labels will retain color, shape, and design. The labels can undergo temperatures up to 140ºF/60ºC, and they can withstand the washing machine, dryer, and dishwasher.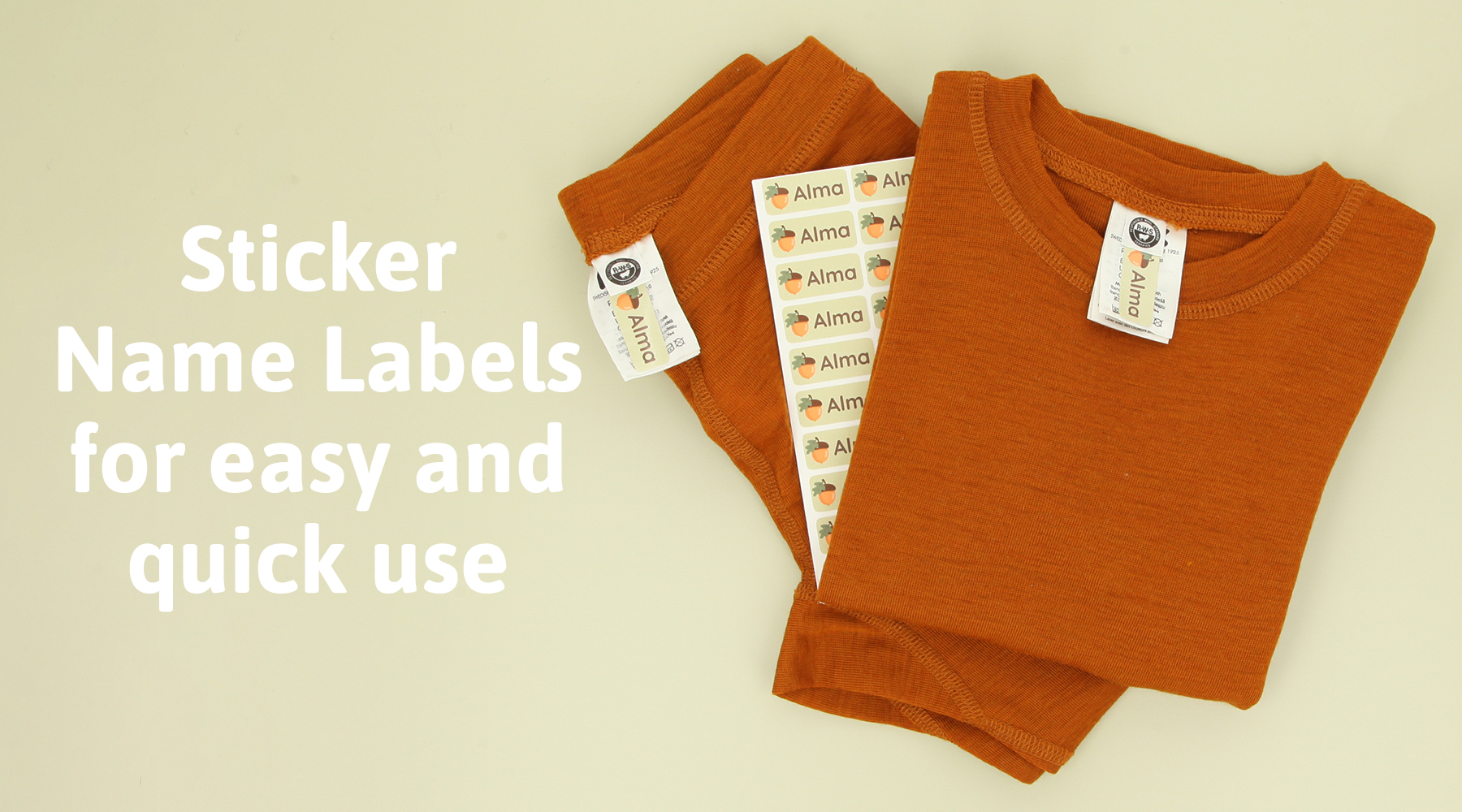 Our Most Popular Name Labels
Self-adhesive and no-iron.
Personalize a unique name label. Our adorable and cool designs make it easy for kids to recognize their personal belongings.
1.18" x 0.51" in size. Not too small, nor too big, and they fit perfectly on the care instructions inside your clothes.
The labels allow for 3 lines of text, with 17 characters per line.
Each package consists of 120 labels.
Tolerates temperatures up to 140ºF/60ºC.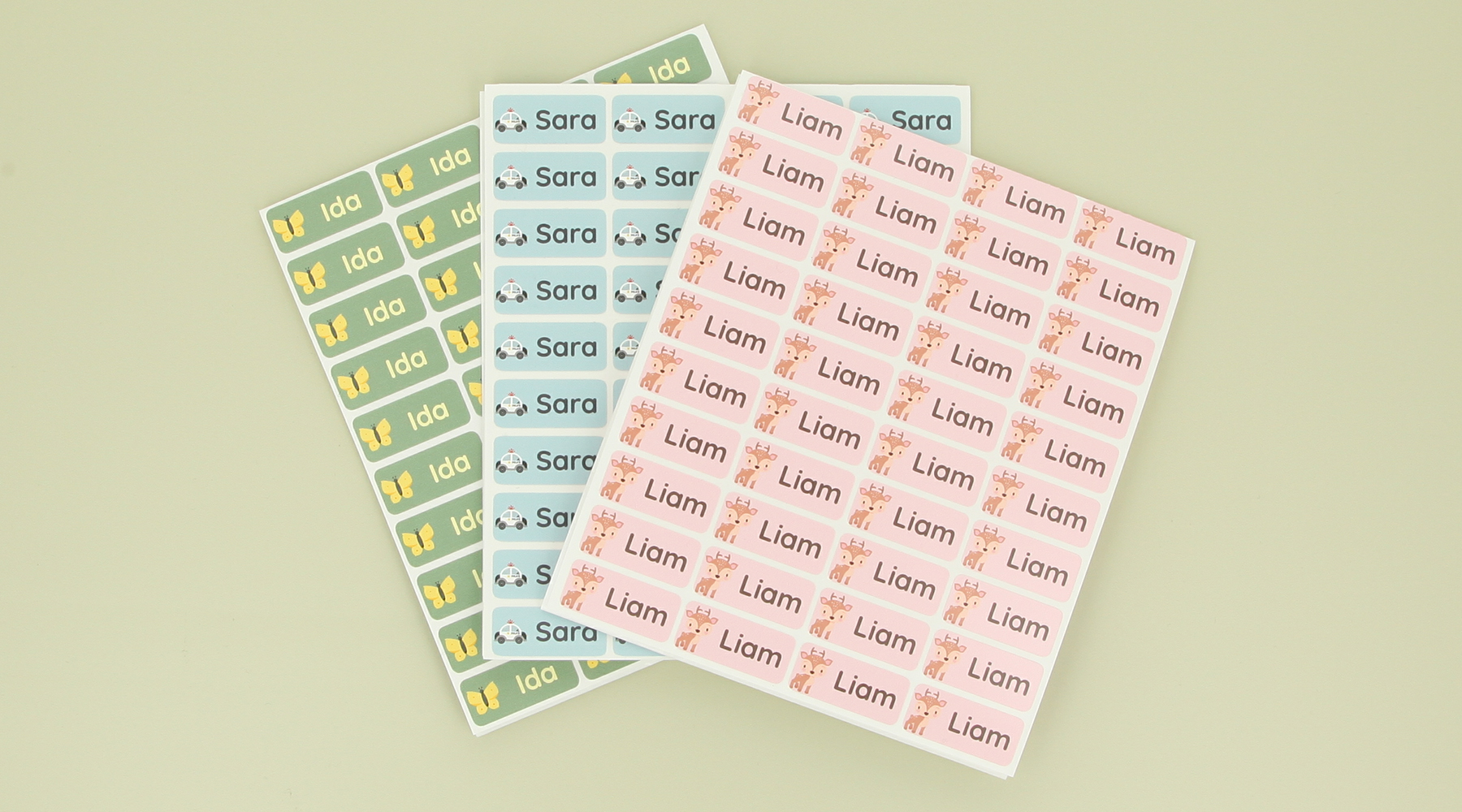 The sticker labels are specifically designed to fit the care label inside most clothes. They are easy to attach, and just as easy to remove when you donate the garment – or maybe the youngest troublemaker in the family will inherit it?
The self-adhesive name label stays on without being itchy. In fact, you will not even notice that it is there! The size of the name labels is 1.18″ x 0.51″. A label can fit 3 lines of text with 17 characters per line. What will you write on your personalized label?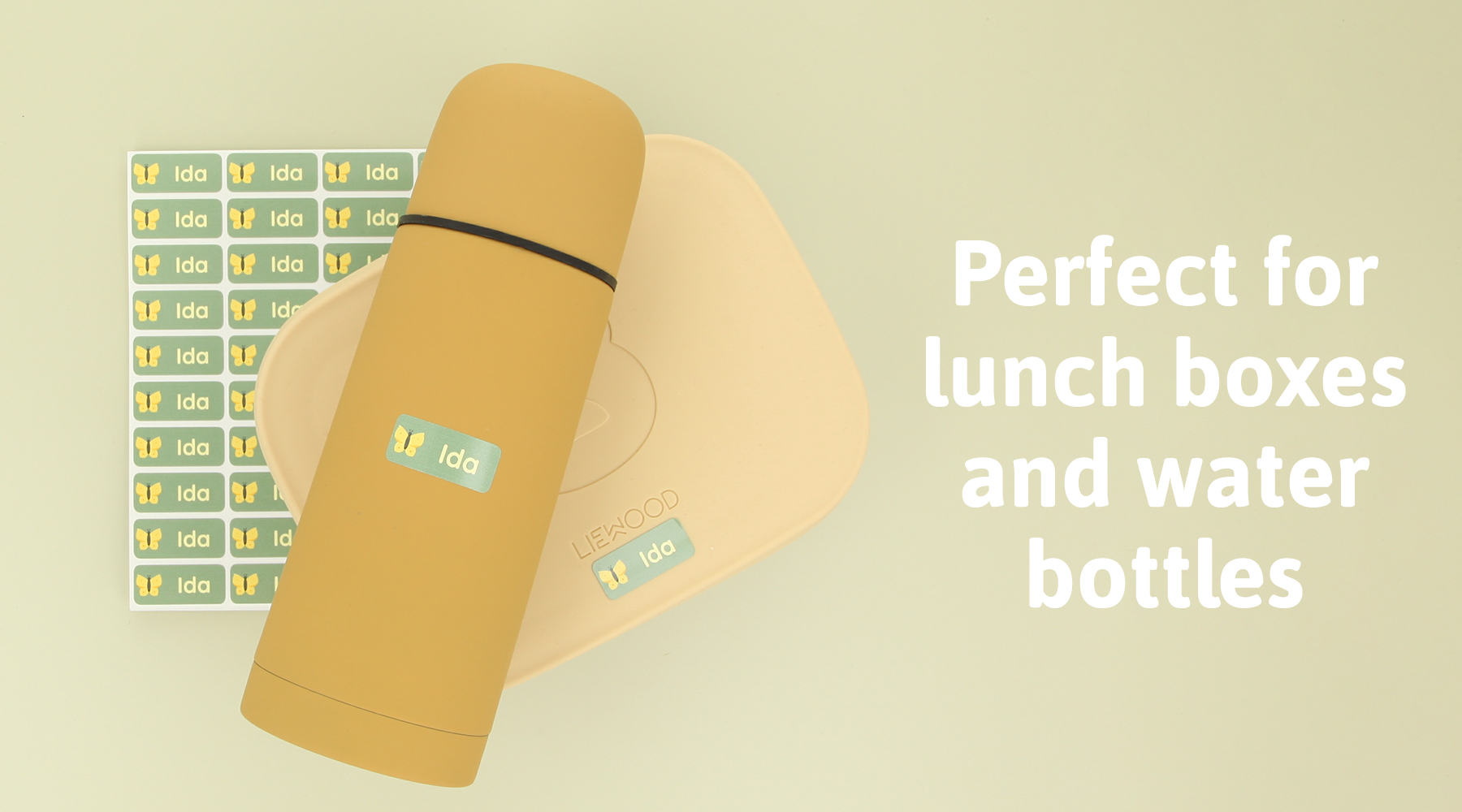 Iron-On Labels that Endure
Iron-on labels are spot-on for bits and pieces like headbands, clothes, and socks. That is – items without care instructions or where the labels must be attached directly to the fabric. Heat your iron and give the labels a gentle touch, and all of a sudden you have labels that endure and actually stick!
The process of designing iron-on labels is the same as with stick-on labels. How about a personalized iron-on label for grandma's knitting, mom's homemade sweater, or your new cabin socks? Valuable items made with love and care deserve a personalized name label.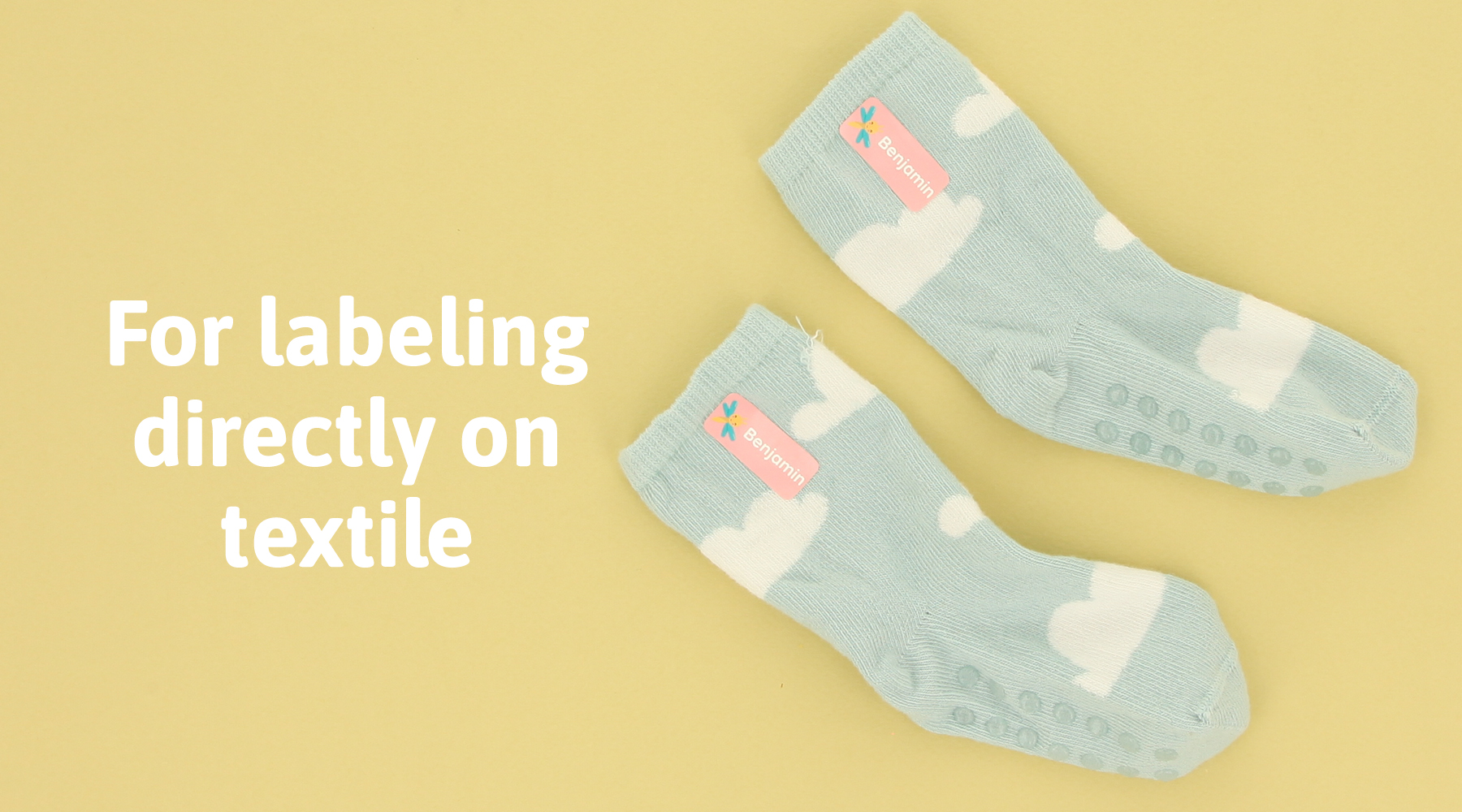 Iron-On Labels Endure Rough Treatment
The iron-on labels can handle rough wear and tear as well as hot washing cycles. We recommend iron-on labels at retirement homes and care facilities where everything is washed together at high temperatures.
The iron-on labels come in packages of 120 labels sized 1.18″ x 0.51″, just like our stick-on no-iron name labels. You can choose from hundreds of different motifs and colors when designing your own unique labels –the only limit is your imagination.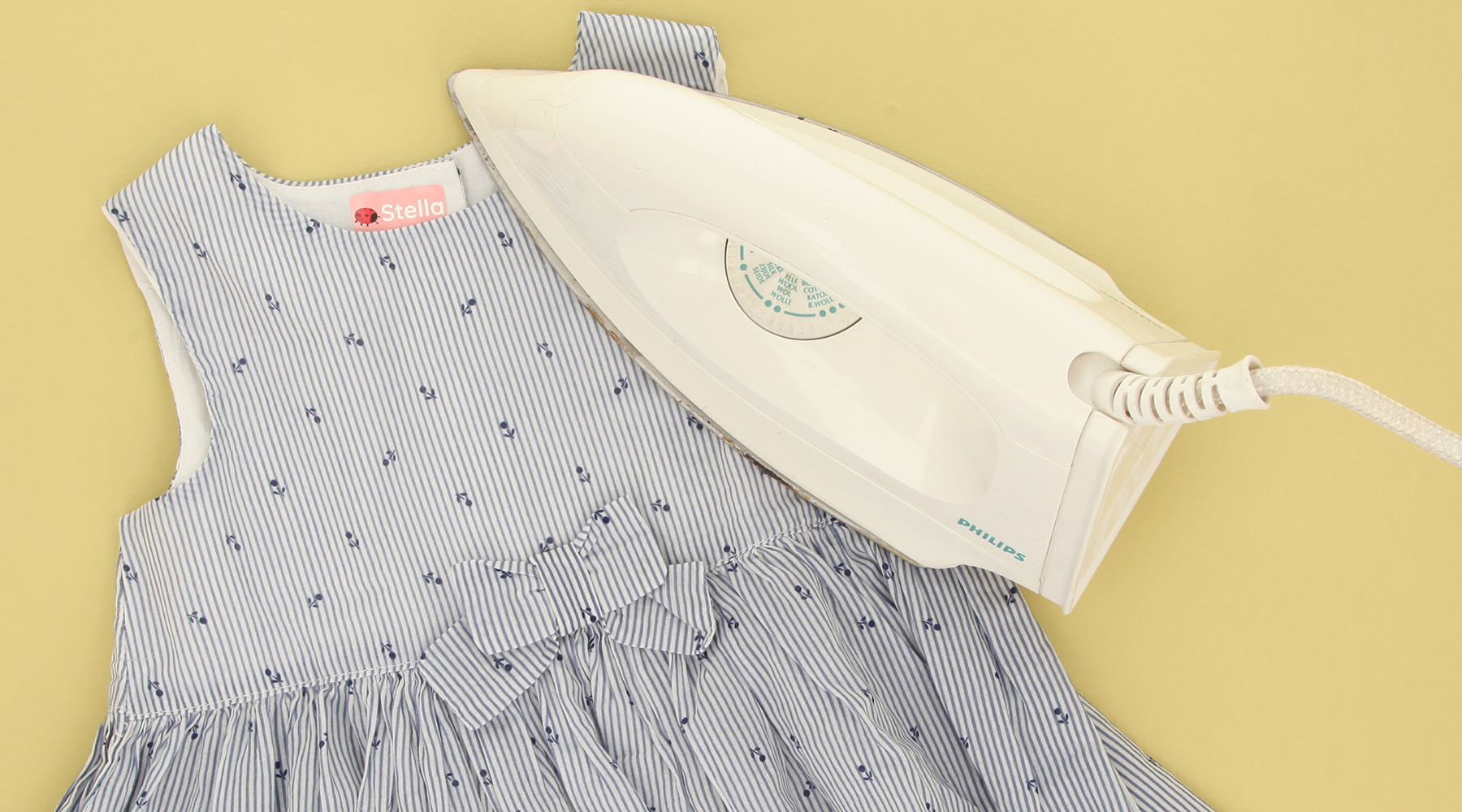 Our Iron-On Labels
Each package consists of 120 labels
Easily applied with an iron
Endure high temperatures
Recommended for residents at care facilities and retirement homes
Personalize your very own iron-on labels with cute and cool motifs
Mini Name Labels – for your Accessories
Mini name labels are made for all your small accessories which are easily lost. Do not worry – these items are even easier to label! The mini name labels are exceptional for labeling school supplies such as pencils, erasers, pencil sharpeners, as well as pacifiers, glasses, glue… You name it, we label it! One package contains 175 mini labels.
The mini labels measure 0.63″ x 0.24″ – less than half the size of our sticker labels. They might be small, but they are durable and stick where they are supposed to, regardless of temperature. There is a vast variety of colors to choose from, and you can pick between vivid pastels, bright neon, and mono-colored mini labels. Take a look at our selection and find your favorite!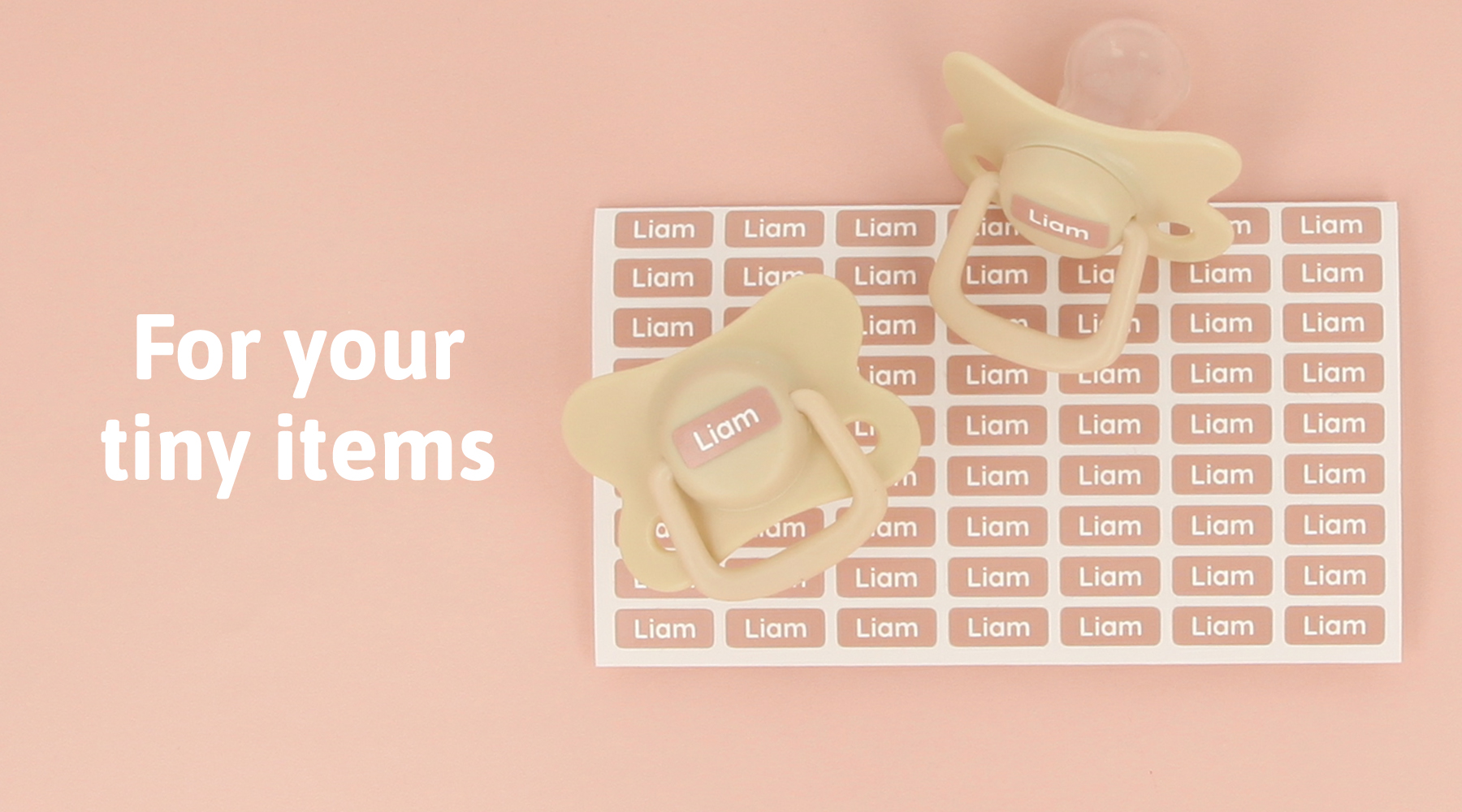 Our Mini Name Labels
Each package consists of 175 labels
0.63″ x 0.24″ in size. Smaller than a paperclip
The label can fit 12 characters
Self-adhesive and no-iron small name labels
Endure cold temperatures and temperatures as high as 140ºF/60ºC. Withstand rough wear and tear.
Vast variety of colors to choose from – do you prefer vibrant color palettes, neon colors or mono-colors?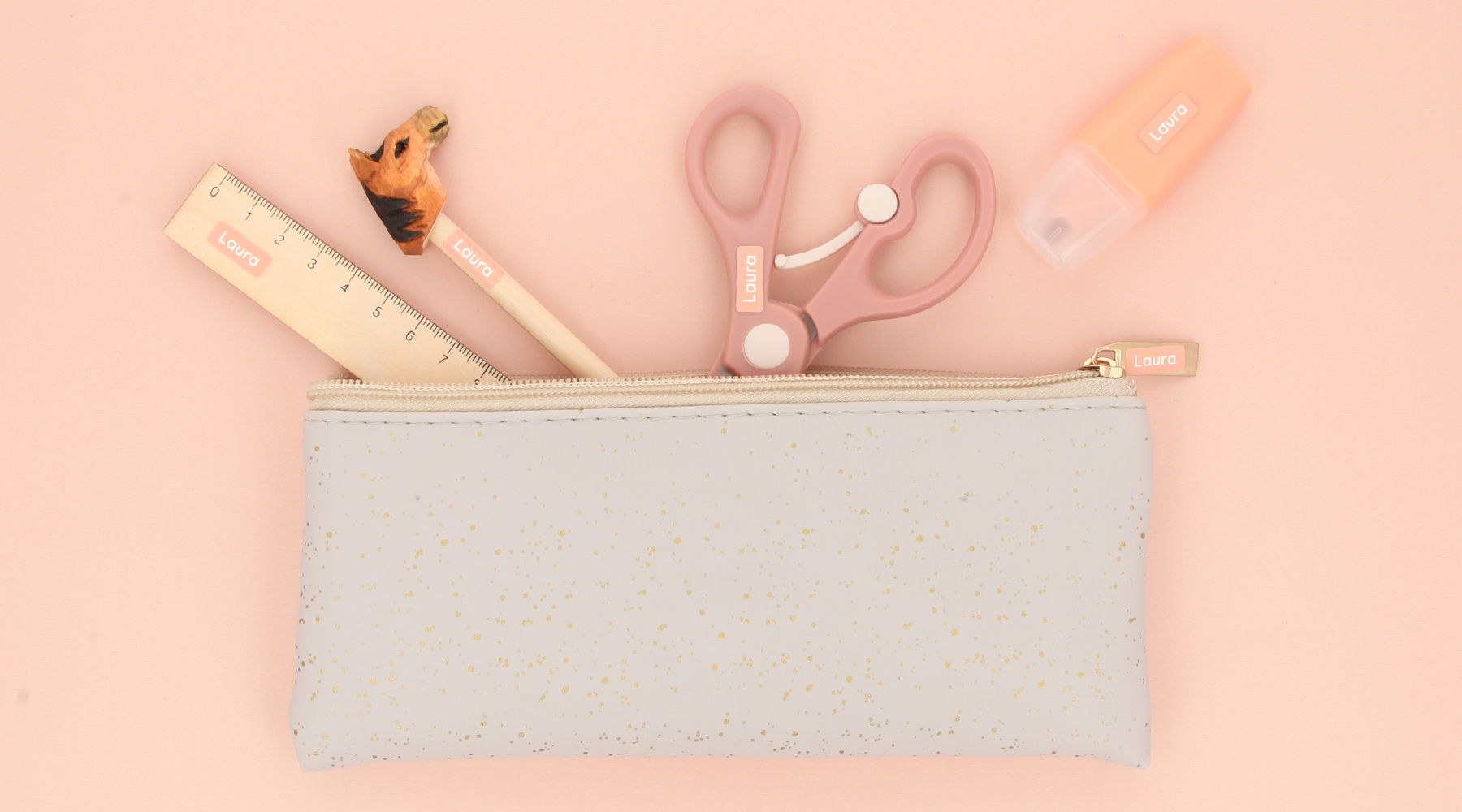 Large Name Labels – variety pack
Prominent, cool, and striking name labels. One package contains 33 name labels in assorted sizes, shapes, themes, and colors. A varied selection that satisfies varied tastes and preferences! Perfect to label sizeable belongings and gear such as bikes, scooters, footballs, schoolbooks, backpacks, lunch boxes, and water bottles. These large name labels stick like glue and are not going anywhere, so now there is no excuse for losing your things.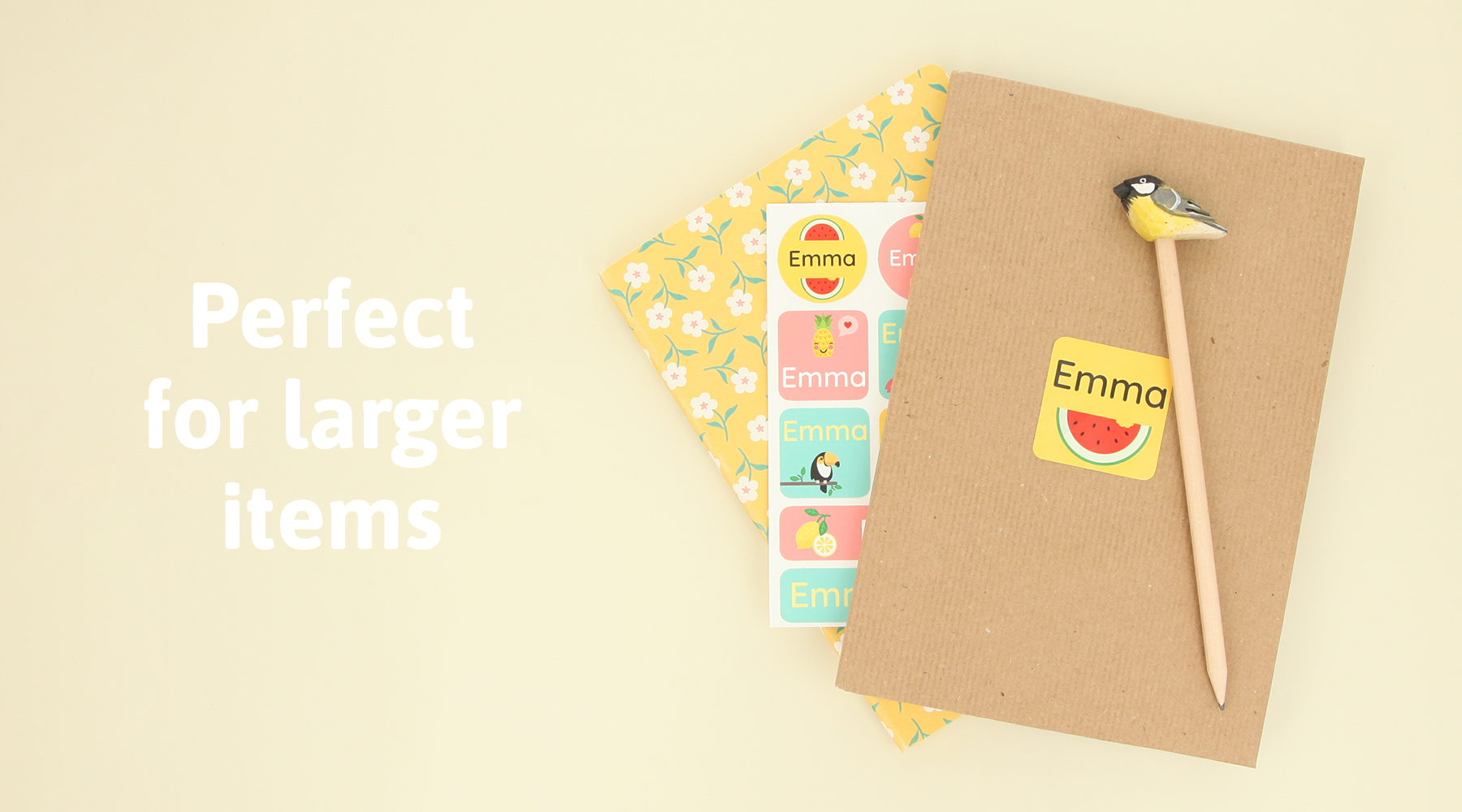 Our Large Name Labels
Durable and can handle the hottest dishwasher cycle
33 large name labels in assorted sizes, shapes, themes, and colors
Self-adhesive and easy to apply
Vast variety of themes. Choose between unicorns, forest creatures, firefighters, monsters – and lots of other cool motifs!
Highly visible and prominent – makes it easy to tell items apart